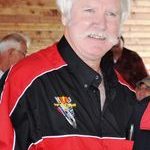 In some backwater recess of the internet, I stumbled upon an interview that George Haines had given to George Silberzhan. So that's THE George Haines of "George Haines Memorial National Dart Championship" tournament, and THE George Silberzhan author of "Darts: Beginning to End".
It was a lengthy chat, so I'll be breaking it into pieces. Also, mind you that this took place what looks to be Decades ago. Here is Part One . . .
American Baseball Dart Association (A.B.D.A.)
– George Haines
The A.B.D.A. spun off from the Pennsylvania State Dart Tournament which is the largest American Dart Tournament and has been around for almost forty years now. There was no sanctioning body for American Darts, so you could go from town to town and you find the line is different, everything is different.
It covers all of American Darts, which isn't a huge geography. It covers easter and central Pennsylvania, New Jersey, Delaware, Maryland and a little bit of New York. That's about it, it doesn't go much beyond that as far as organized leagues go certainly.
It's kind of hard to say how many members shoot in leagues. Leagues vary from 60 members to 120 members, that's based on 16 teams as a maximum, most leagues are not that big. There's a lot of variance on how many members are on a team. There are three or four or five or six, but five is the most popular. I keep an eye on about 25 American Dart Leagues myself. I'm sure there are many more than that so probably 2,500 to 5,000 members now play organized American Darts.
Well, if you can get them young enough and interested they should play until they die. A lot of the players are those who've been around for a while. The younger players are more interested in bells and whistles. Electronic darts, perhaps. Not that there's anything wrong with that, darts is darts. Our game is kind of looked at as an old fashioned game. You know, it's a skill game. I would say that older players are some of the better players, not that all the best players are older, because as you get older your skills sort of go away a little and the younger players, you know the thirties guys, thirty – thirty five maybe are generally still the top layers and they still are in the American game.
Johnny Kuczynski and Darin Young, they shoot in the same league, American Darts. They shoot every Thursday in the North Side Dart League. I mean they're the top two players and average fifty or better every year and that's about as good as it gets. I'm sure you know that. I mean, I don't care how far back you go, not too many players could average, in league play (not tournament play now) fifty or better. Your better member is the guy who's been around for a while, you know, younger guys come and go. Their jobs move them around. It's pretty much a local game.
Not very many women play. We do have women who play but some leagues just don't allow women to play in their league, it's in the by-laws, it'll say right in the the by-laws it's a men's dart league. I'm saying leagues are all different. There's social leagues and there you're going to have more women, there's handicapped leagues, there's open leagues that are, you know, very competitive. Maybe they have a cap on the average for the team so you're not really giving points or getting points, you're trying to balance the team to at least hold them down to a level of play where a particular team isn't going to run away with it every year.
Johnny K and Darin Young, to my knowledge, I don't think they play any leagues other than American Darts. They may have played some electronic darts, because it was available. Up in their area you will find very few dart bars with a bristle board. They practice and can go to Richie's where there's a bristle board because the locals (many of them) compete at the British Style tournaments that are easy to travel to. There's the Ray Chesney and Virginia Beach, and of course Johnny and Darin, they travel all over the world. In upstate PA you find American Darts primarily and maybe find electronic darts up there where Jerry Umberger pushed them a few years back. I would say Johnny and Darin probably play a little electronic but they play American every Thursday in the North Side Dart League.
Like most organizations, the leagues have one or two guys who do all of the work. They may have a President, Vice President, Secretary, Treasurer, Statistician. You know that's your basic, but mostly one or two guys do all that work. And that's usually what happens. The statistician keeps track of who shot, how many games they shot, what their average is for the year, things like that.
There's usually some money involved. Somehow, some way they all have their ways of collecting money, either from the shooters directly or from the establishments where darts are being held or most likely a combination of the two. And, of course, the establishments are benefiting financially because they get a dozen guys or so in their establishments who otherwise wouldn't be there. The amount they collect depends on how lavish an affair they are looking for at the end of the year. Some will have a simple banquet or picnic. There are trophies, some have cash prizes, for top high game, to high triple, that sort of thing. But then some leagues have a lavish banquet *phone rings).
Excuse me I have to answer the phone . . .