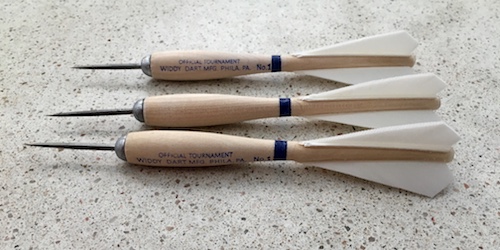 For decades, Widdy has manufactured darts for use on American dart boards.
The darts are composed of several different elements. The most obvious trait is that the body is a single piece of wood.
The darts come it at roughly 5 3/4″ in total length. The barrel of a Widdy dart is thick, roughly 1 5/8″ around at its largest point. 
The barrel is tapered though, so it's wider towards the front of the dart and much slimmer in the rear where the flights are attached.
The weight of the an American dart lies in its nose. That's where the steel tip is inserted into the body of the dart. The point extends 1 1/4″ out of a metal base that is attached to the barrel. To provide some sense of balance, there is a section of lead that is inserted into the barrel, so the dart is not so front heavy that it couldn't fly properly.
Widdys have three flights attached to them in a triangle pattern. They are also hotstamped with the words "Official Tournament" and "Widdy Dart Mfg. Philadelphia PA No. 1" on them. They also have an identifying blue band around them.
For years we used to refer to them as simply blue darts. That was during a time when Apex used a Red band and Widdy used a blue band. There were no other dart makers of note at the time.
Changes at the company have led them to introduce a second style of flight – the "Square Cut" that mimics the style of flight once found on an Apex dart.
The company has also expanded into manufacturing #2 size darts. Those darts are commonly used both in the game of Dartball, and also on Troy style dartboards.