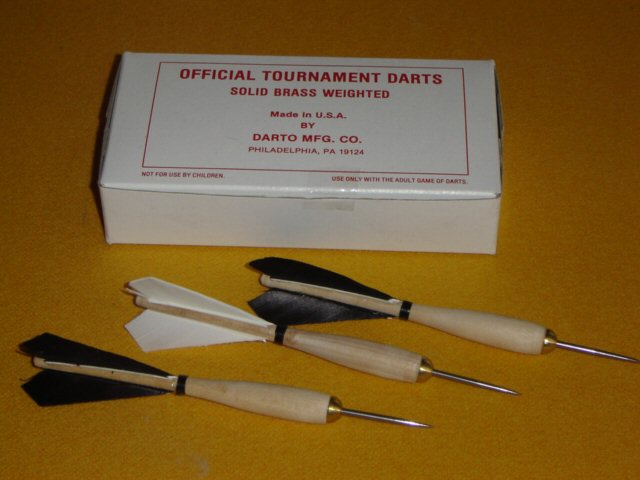 Darto is a company that is back in action, making darts and boards.
The barrels of the Darto darts that I have have nothing hot stamped on them. They are plain, and smooth. The band that wraps around the dart right at the "top" of the feathers is black. The feathers appear to be "snipped" at the ends, giving them a set of sharp angles instead of a rounded look. I'm not sure if this affects the flight of the darts, but it certainly changes the look of the dart. They appear more precise and stylish.
The feathers come in different colors. I've seen them in black, blue, traditional white, yellow, and a color set they call "Patriot". The Patriots have one feather in red, one in white, and one in blue.
The points of the darts are not identical to the Widdy points. The base that inserts into the barrel is larger, and appears to be of higher quality. It is gold colored, and looks to be machined more smoothly. I think that Dartos are stylish, high quality American darts.
You can find them in "3 Packs" or boxes of a dozen.