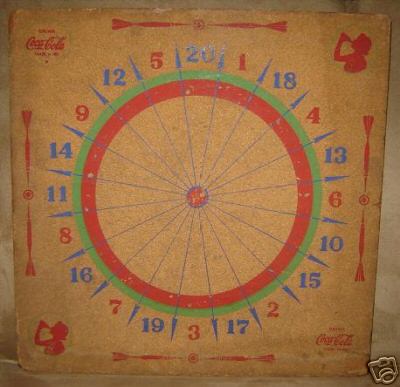 This board appeared in an ad at an online auction site a while ago. It certainly is an American Style board, but it also looks like it's been put out as a promotional device. That's probably not a bad idea, to be honest.
It also looks to be a cork board, so I'm not sure how that would affect the costs of making it, but it sure seems like the lifespan of the piece would be pretty limited. I guess if was an ad piece though, there's a chance that it just doesn't matter how long it will hold up. It probably won't be played heavily (as in tavern dartboard heavy) anyway.
Here are some picts of Coca Cola darts. You'll notice that the darts don't have a lead wight in the nosecone. In fact, it doesn't appear as if they're weighted at all. So, they might fly in an awkward manner.
They do however, come titled as "Streamlined Darts".