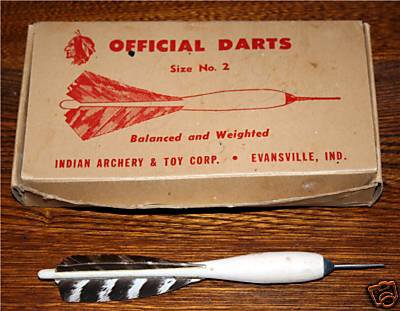 I think that the majority of vintage darts that I stumble across are #1's. And by that I mean the smaller size that we use today with American style dartboards.
This set of darts by the Indian Archery Toy Company are #2's, which makes them a little different right out of the gate.
I had originally dug up enough information on the company to at least know that they dropped their "Toy Company" status with an official name change in 1961.
That would put these darts as being made at some point in the 50's, if not earlier. It turns out the company was founded in 1927. So, they could have been made much earlier.
Someone put together a really nice company recap that you can read here – http://www.vintagearchery.org/indian.html
Their main focus turned into archery, but while they were still getting their feet under themselves, they were producing some darts that are definitely now Vintage!