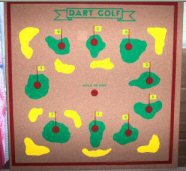 Golf is a game that closely mimics darts in at least one way. If you find yourself in a jam, you're the one that put yourself there. No one was playing defense against you.
This dart board is designed around the game of golf, and comes with a set of scoring rules that takes things like the "hazards" on the board into account. This particular board is another Apex creation that is no longer being produced.
There is a guy who sells "Custom Dartboards" through Etsy, and so if you're in the market for a cork board with based on the game of Golf, you may want to look him up.
Also, even though I don't have pictures of them, there are different boards (not just cork) that have golf graphics on them. I don't think it's nearly as versatile as "card Dartboards" as far as a variety of games, but Golf is a friendly thing to combine with darts.