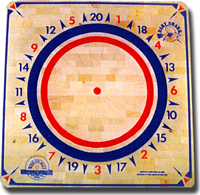 The company behind the Dart Shark line of wooden dart boards is the Wood Specialty Company, of Philadelphia Pennsylvania.
The Wood Specialty Company has ceased operations. What follows was part of an article created while the company was still manufacturing their own boards, and supplying other companies with wood products for their boards . . .
They manufacture wooden tournament boards, in several different price ranges. They make a flat grain board that is probably the least expensive American dart board I've ever seen. And while the features aren't there in that particular board to warrant using them regularly for our shooting environment, for home practice or completely recreational use, it's a bargain.
The also make single-sided, and the traditional top-quality double-sided boards, so they put darting into everyone's reach by offering products to fit whatever level of quality you require from your board.
When I wrote them to find out more about their company, I received a response from Stephen Slaski, the company's President. Here's what he has to say about his company, and the products they create:
"Wood Specialty Company has been in business since 1942. Our DartShark product line was introduced in 1980. Since our inception we have always supplied the American Dartboard manufacturers with "blanks" made from solid Basswood. Starting with "Widdy" as well as the original "Deco" company.
In fact we are the only manufacturer of American Dartboards that manufacturers the dartboards from "scratch". That gives us complete control over the products from beginning to the end."