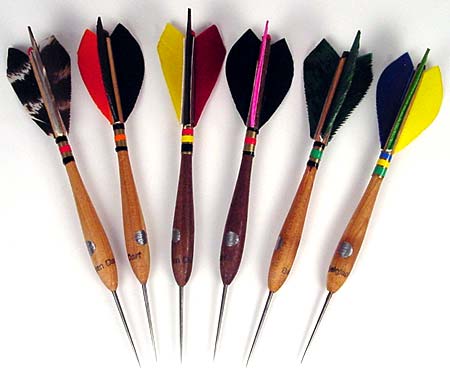 I've surfed the net looking at various dart sites long enough that when I come across something totally new, it makes my day. And, that happened just the other night.
I'm aware of several different variations of the wooden dart/wood board dart game pairing. For instance, there's DartBall and the previously mentioned Troy darts.
I recently found a new one (new to me that is), and it seems like the European version of American darts. It's called "Vogelpiks", and it's a dart game from Belgium.
Vogelpik "Darts":
The darts are very similar to american darts in that they are hand-crafted from wood, use feather flights, have a steel tip and a lead weight. They use several woods: cherry, walnut, and birch. The flights come in different styles as well. They can be rounded or snipped like a darto/apex dart.
Vogelpik Board:
The board is made from . . . you guessed it . . . the endgrain pieces of basswood. It the same material as our American style wooden tournament boards.
The layout on the board is insanely simple. There is a "bullseye", or what we'd call the cork in the center of the board. It's surrounded by 6 circlular bands or red/white/black.
The board comes in two sizes, 9 inch and 7 inch. They both have the same amount of rings, so it just looks as though the 7″ board is harder to score on.
Rules and Gameplay:
First, the distances for hanging the board, and the throw line: Hang the Board with the cork 62 inches above the floor. That's a mere 1 inch shorter than an American board, compared to a pub board that is mounted 68 inches above the floor.
The Throw Line should be 72 inches from the front of the board. That's awefully short compared to other dart games. It comes in at 6 ft, compared to over 7 feet for both American and English darts.Now, on to the Gameplay.
Players throw four darts per turn at the center of the dartboard.
Each player gets five turns per game.
Toe the line, stepping over the line results in a loss of score for that dart.
Players wait until the score is called to remove darts. If they fail to do so, there is no recourse for an incorrectly called score.
If the game ends in a tie, players shoot extra rounds of four darts each to break the tie.
Scoring:
The scoring is simple. Each ring has an associated point value.
The cork/bullseye is worth 50 pts.
The red ring that surrounds it is worth 25 pts.
The white ring surrounding that is worth 20 pts.
The black ring scores 15 pts.
The outer white ring scores 10 pts.
The outermost red ring scores 5 pts.
History of Vogelpiks:
"It was very popular in Flanders around the time of 1792, and seems to have originated from the archery skills of the Middle Ages. "VOGELPIK" is the early version of the modern game of Belgian darts. It consisted of a stuffed bird hung by a wire from the ceiling, and in its bill a needle in the horizontal position was attached. The player would balance the wire and try to spear a wooden board that was hung on the wall."
I read that and re-read that, and I still can't envision it all. I do think that it adds some background to why there'd be a picture of a Vogelpik board hanging inside a bird cage on the internet though.
For a family background and some history on how the game of Vogelpiks landed on the shores of the U.S., visit Belgian Dart History. Apparently, Arthur & James VanHoutteghem are the only makers of Vogelpiks in the United States today. So really, each dart made is a hand-crafted art work that carries three generations of tradition with it.
I think it's great to find wooden darts making their way to the States in another form.
Resources:
---
The above article was originally wirtten as part of a darts blog. The following comments were added during the time that the commenting feature was active. Now, comments can be emailed to webmaster AT americanstyledarts.com with the word "Darts Website" in the Subject line.
Comments
1. Author: Tony Warne | Date: December 15, 2007 | Time: 6:19 pm | Very interesting and unusual, to say the least. Its not something that I have been aware of before now and very glad that I found this blogg. Cheers and 180′s to you all.
2. Author: Pat | Date: June 2, 2008 | Time: 2:49 pm | I played this alot back in davenport iowa in the late 70s and early 80s. seems to be more common in the midwest. I now live in alabama and everyone thought I was crazy when I told them about this game. I just oedered a vogel pik board and darts to add to my dart wall.
3. Author: Rod verschage | Date: December 17, 2008 | Time: 10:05 am | We play this every Wednesday night. It is starting to become a more popular indoor bar sport. I live about 40 miles from the Quad cities and it is still popular down around there. We have about 70 to 80 people in the league here in Kewanee. Only thing is we play with the rule that we have to keep our heel on the line. I was an avid pool league player, but like I said it is a growing sport and we are getting new people in each year.
4. Author: Gary | Date: January 29, 2009 | Time: 5:18 pm | The boards were also imported from Belgium where they were manufactured of barley straw (much softer than bassword) with smaller piks. The rules are different here in the Quad-Cities (Moline, IL.) as we heel the line. The boards are mounted the same. The only difference is toe the line or heel the line. There are two games which we play score as was stated already and baseball. If playing singles, each player starts with 2 men on base and every pik which hits the 25 circle add a man on base, a bullseye is home run, so the highest score in singles is 6 runs. If playing doubles, start with no men on 1 player put the players on base and the next player bring them home.
5. Author: Bob | Date: November 12, 2009 | Time: 9:46 am | thanks guys,I to am from the quad cities and played a lot of pics in the 70′s and 80′s.Here in Florida nobody has heard of belgian darts. Thanks for the rules to baseball I had forgotten them! how many innings are played? Thanks for the help! Ready to order a board. Bob
6. Author: Clem | Date: November 12, 2009 | Time: 4:56 pm | I still have a board and sets of picks and play baseball, its a good one player game. I for many years in the winter played in tavern leagues all around moline, il. At the end of the season we would have big drunk feast and tournement at the old belguim village on 4th ave. I've been gone for many years, is this going on? At one time there was a guy in moline who could put the pick in his mouth and blow it with great accuracy. Nobody would allow him to play tourament this way. For those interested you could buy boards and picks at the belguim village bar, and i'll bet if their still around you still can
7. Author: J.Olds | Date: August 3, 2010 | Time: 2:53 pm | That mans name was Darren Giddle that spit the darts into the board – he could also drop kick them in there too. He also shot right or left handed. possibly the best dart player I ever seen. he and my father (both deceased) drank many a free Quad-City beers
8. Author: Bsteinhagen | Date: October 12, 2010 | Time: 4:04 pm | I know live in VA. I have had a Belgium Pic Board for the past 35 years and still play baseball at least weekly. I must admit I too am originally from the Davenport Iowa area and during the early and mid 70′s at least a couple of dozen taverns had the pic boards with leagues in many of them. It is a great game which takes incredible muscle memory and focus. For those that haven't played it is very addicting to play once you have figured out how to hold and throw. It is definitely a finess game compared to regular english darts
9. Author: don burd | Date: January 6, 2011 | Time: 1:49 am | hello all. My name is Don and Im from East Moline IL. It seems that the micro culture of piks is limited to that area. I have been shooting piks for 20 years or so my self. My pops Ken Burd (BurdMan) would also spit, kick, throw over his shoulder pics and was good at it. In 1994 we shot together in East Moline on Sundays and we both held averages of 125 or higher and had many sets between the two of us with the league. I now live in CA and miss the game. We used to yell at each other "right there!" and "You Go Get it" I loved it. And, I got me a few free beers too. Keep on shootin.
10. Author: David VanDehey | Date: July 20, 2011 | Time: 1:19 pm | WOW Pat! I lived in Davenport in the lae 70s early 80s. I went to Palmer, live by Vandeveer Park. My brother Michael and I played quite often, do I know you?
11. Author: vern | Date: August 31, 2011 | Time: 12:36 am | Seems the only people who even know about picks are from QC. I have several boards and picks…You can buy them new but their skinny boards compared to the old ones. I sure some old German guy made a go at selling them years ago. The funny thing is no one knows where they came from. And those picks and boards have been in those bars for 40 50 60 years or more! I have bought several kits on line. The picks are a little different too..the needles are shorter on the new ones! I did play a few games at Carols in davenport just a few weeks ago! I was on vaca…I tried to find more old stuff..I did get one old board with a perfect unused side!!! nice!
12. Author: ken | Date: November 28, 2011 | Time: 6:24 pm | I HAVE A STRAW PICK BOARD AND AM TOURNAMENT DARTS,MADE IN BELGIM. I BOUGHT THEM AT TEMPLES SPORTING STORE BACK IN THE 6O'S. THEY ARE 99% PERFECT. MY DAD SHOT IN PICK LEAGUES AT THE ALLEY INN IN MOLINE, ANY WHERE IN THE QUQAD CITIES.
13. Author: Chris Seaman | Date: November 28, 2011 | Time: 8:19 pm | My dad told me about this game last Christmas and I decided I would get him a pik set this year. He told me about playing it in many a tavern around Moline I guess. It's fun to read this blog because my dad and our family is originally from the Moline, IL area. Anyone know Gary Seaman? He worked for the Moline Fire Department in the 70s and went to Palmer, graduated 1980.
14. Author: Gene | Date: December 13, 2011 | Time: 12:44 pm | If anybody has some old straw boards and would like to sell, let me know. We are running out of the old boards-the new wood boards are too hard for league play.
15. Author: N.Mercer | Date: March 20, 2012 | Time: 10:46 am | Nice to see you on here Rod. I also play on the same leauge and found a new grip style today and cant wait to practice this off season. I usually only play on game night. Beware next season!!! lol
16. Author: Ashlee | Date: June 17, 2012 | Time: 8:34 pm | I too am from the QC area and i was wondering if anyone knew where to buy traditional picks at. My grandpa used to shoot picks and he wants to get back into it but we're having trouble finding any.
17. Author: Dan Moore | Date: July 9, 2012 | Time: 9:38 pm | I played this game for years back in Iowa. Now live in Phoenix and am going to buy a board & picks for my pool room. The old straw boards are the best.