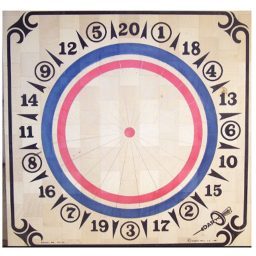 When we started our dart league in the fall of 1993, Darto was one of three names in the American dart gear scene. They were mostly known for their wood boards.
Darto continued making boards for years, but eventually the company stopped operations. The gear stayed silent for a while, but recently it has been put back into use.
Wood boards bearing the familiar Darto design can be found again.
The company has also started experimenting, and has taken a shot at merging the design of an American board, with the expected thin outer trips ring and the wider red doubles ring on a Sisial board.
There are wires embedded into the board, so it's still just as easy to see which inning a dart landed in. The outer frame part of the board is gone, and the innings are marked in the same way they are on an English board – with an overlay that can be "rotated" as the board shows signs of wear in particular areas.
This interesting take on a board is considered a "limited edition". The wood boards should receive continual production.