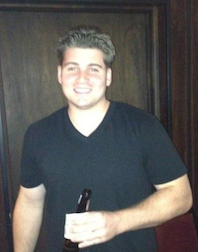 When you look at the list of the top shooters in the game, you'll see names like Darin Young, Johnny K, Bob Miske, and Tommy Hill. All of them have had the pleasure of celebrating their 40th birthday. But not all of the game's marksmen have been practicing their craft for decades.
There are some young shooters who are finding the mark with their game in the Philadelphia area. Mark Francks is at the top of that scene. Recently, I had the chance to talk with Mark about darts.
A lot of shooters who enter the game are surrounded by darts at a young age. Their fathers, uncles, or grandfathers introduce them to the sport before they are even old enough to compete in a tavern league.
That wasn't the case with Mark, who did not start shooting darts until he was 21, and old enough to join a tavern league for the '07-'08 season.
He averaged a 36 that year, and concentrated solely on American darts for the next five years. He is the first, and still the only, person from his family to play the game.
Mark has been honing his skills through a mix of leagues that he is involved in. They include the Wednesday Delco dart league and the Thursday Night South Philly League.
In 2012 Mark added English darts to his game, joining the Tuesday OEDL, and continuing English darts in the summer with the Monday night Mummer's League.
Of those, his favorite league is the South Philly League where he is both a shooter, and the President. There are 14 different teams in the South Philly league, and they all play each other once at home and once away. The food comes out at the end of the second game. White horses earn a shot on the house. And it's a great night out with strong and friendly competition.
According the Smitty (Jimmy Smith), the elder statesman of the league, the South Philly League has been going for over 50 years.
Mark won the awards for high game, high average, and high series in the '11-'12 season. His passion for the game, and concern for the league were obvious to the other shooters and he was offered presidency of the league. Since then, he has continued to win those awards and has posted a three game series high of 166.
I asked Mark about his approach to the game.
"In the beginning, I looked up to all the high average shooters. I used to constantly ask them how they consistently shoot between 5 and 9 every time they were up.
The only answers I would get were practice, and follow and shoot after your first dart – as long as you make your first dart.
As time went on, I realized by using that strategy you will cap yourself between a 35 and 40 average.
You need to know how to move and hit your angles.
So, I practiced my angles and actually placed a black dot in a certain spot with a marker in each inning to remind myself that if I want to secure my 6 every time, I would have to hit that spot, then angle or drop shot the next two darts.
Two years later, I went from a 40 to a 45 in average."
Mark also mentioned that he finds value not only in practicing his dart throws, but also paying attention to how others approach the game.
"I can say I'm the type of guy that always sits back and watches. You will learn more from watching someone than you will by playing them. When watching a game, always thing and ask yourself why did they just do what they did – such as walking a certain way to land a certain shot.
I'm only a 48 average, but I know if I'm going to beat someone just by the first three darts they throw. It shows if they know their angles or just shoot straight at the dart(s) they just made. This matters Big Time. . . "
To hold a 48 average over the course of league season, there has to be some practice time involved. So, I asked Mark about his practice schedule and routine.
"I pretty much practice when I feel it's been too long. For me too long would be around 3 days.
Sometimes I can't (practice) because I have two small kids, and it could be tough. If that happened, I would run about 15 – 20 games plus take shots at more complicated shots that I usually don't attempt with my normal strategy.
I try to throw at least a half hour a day overall."
Mark has already put together a list of championships in Philadelphia, Delaware County and Chambersburg. I'm sure if he continues to take advice from Tommy Hill, Jim Newman and Darin, and stays serious and hungry, that list will continue to grow and grow.