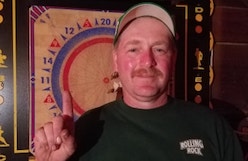 The Big Dog dart tournament is a Singles Event that takes place every year. It's a Double Elimination event, and there are No Handicaps. That may make it the most simple dart tournament going.
But in this case, "simple" should not be mistaken for "easy".
Anyone is allowed to enter, and no one gets a head start on anyone on the scoring page. Every point you get credit for at the end of the game has been earned by landing a dart on the board. And that means better players have an advantage. Which of course, attracts the better players.
Looking around the room at the tournament, one player once noted "Well, whoever wins this thing . . . deserves it!"
One time I asked Dave Habowski how it was going. He told me "I shot 49, 44, 56 and lost in three games. So the next match I shot 52, 46 – and lost that in two. I'm knocked out."
And what's the dart saying for when you hit a 50+ and lose? "You give the guy your money and shake his hand."
Unless you're Kingfish. In that case you tell him, "That's all you'll have to do to get everything in my wallet. I'll be shooting 50's all day, and if you're shooting better 50's, I can make you a rich man!" *
You can't expect games like that every time you turn around. What you can expect, is for someone to have a hot hand. And probably more than one person will. And when they meet, there are some amazing games.
I was lucky enough to catch several on camera, and you can see them on the American Style Darts Youtube channel.
One pair of games I did not get on camera was Kenny Johnson's opening series in the 2019 running of the Big Dog. I don't know if being aware that he was on camera would have bit the extra pop of adrenaline that would have made him falter, or if I squandered the chance to be able to share video of this two game series . . .
Besides the skill on display, the striking thing for me is that day is Just Plain FUN! Many of these guys know each other, and have shot with and against each other dozens of times. No one wants to lose, but the camaraderie is every bit as strong as the competition.
This year Kenny Johnson came out of the gate FIRING! And try as they might, no one could take hime down. He and Stan Savitsky were our finalists, and Kenny – our Big Dog.
Before we get too far into the day, I try to get a "Team Picture". Of course we also take photos of the Finalists and Winners.